TRUSSCORE™ PVC Plastic Wall Panels
TRUSSCORE™ PVC Interlocking Liner Panels have your job covered. Wherever you need a smooth finish that is easy-to-clean, low maintenance, hygienic and/or abuse resistant, TRUSSCORE PVC Sanitary Wall and Ceiling Panel is the answer. Designed to meet your most demanding expectations, these panels exceed modern hygienic construction and statutory building codes, and are transforming construction practices in the United States and Canada.
Available in white or grey, TRUSSCORE is recommended for all agricultural, industrial, commercial, and residential interior applications:
Trusscore is the perfect alternative to painted drywall, plywood, plasterboard, tiled concrete or stainless steel paneling.
APPLICATIONS

Dairy, Hog, and Poultry Farms
Garages
Supermarkets
Riding Stables
Workshops
Schools

Food Processing Plants
Meat Packing Facilities
Indoor Grow Rooms
Chemical Processing Plants
Refrigerated Warehouses
Restaurant Kitchens

Car Washes
Public Bathrooms
Laboratories
Laundromats
Cannabis Cultivation
Marinas & Fisheries
TRUSSCORE PVC Interlocking Liner Panels unique inner truss design provides outstanding spanning capability and rigidity as well as a high strength to weight ratio. TRUSSCORE'S corrosion resistant surface is highly durable and resistant to scratches, moisture, and most chemicals.
Lightweight and easy to work with, TRUSSCORE requires no special training or tools to install. TRUSSCORE'S tongue-and-groove interlocking system makes both vertical and horizontal installation quick and easy.
TRUSSCORE is safe to work with using normal construction practices and the waste material is recyclable.
TRUSSCORE ADVANTAGES
Industry leading 1/2" thick heavy wall design
Reflective bright white or classic light grey surface
Pre-punched nailing flange
Hidden fasteners provide smooth finish
Highly resistant to moisture and most chemicals
Virtually maintenance free - just wipe clean
Inner truss design for rigidity and high strength
Lightweight easy to instal interlocking design
Supports attic insulation loads
Cost effective compared to other materials
Can be used for construction or retrofit
Ideal replacement for conventional wall systems
TRUSSCORE SPECIFICATIONS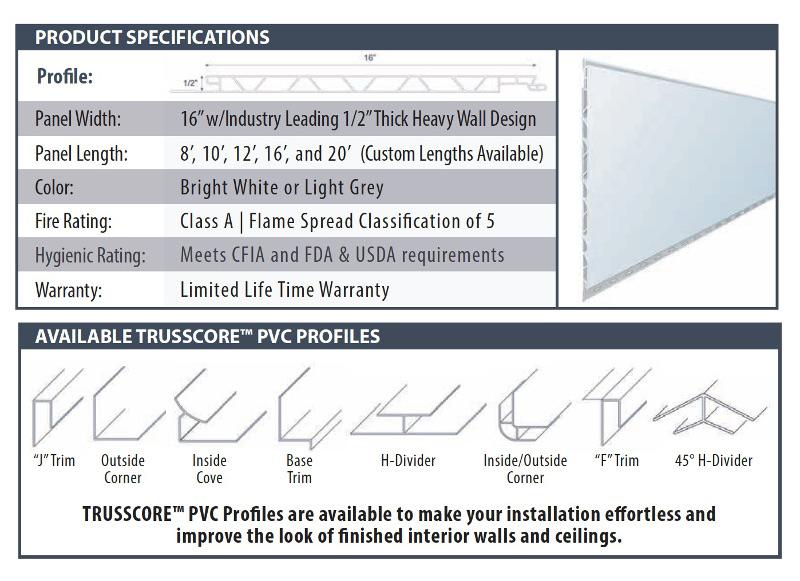 Contact Us for Pricing and Availability- Phone: 1-858-560-1551 | Email: info@ePlastics.com