Plexiglass Display Cases, Locking and Collectible styles, Display box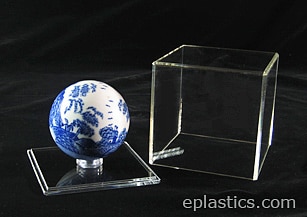 DISPLAY CASES
ePlastics® offers a wide variety of lockable or regular display cases for many different uses. Most common applications include wall-mounted displays, clear plastic cabinets, acrylic vitrine enclosures, residential displays, baseball/bat/football/basketball/soccer and other sports displays, as well as other sports memorabilia.
ePlastics® can custom build any size plexiglass acrylic display case for any display application that you have. All plexiglass acrylic display cases and clear acrylic boxes are built with a removable base as shown in the image to the right.
**Lockable boxes use locking hinged doors for entry**MUSEUM DISPLAYS
ePlastics® specializes in custom plexiglass acrylic vitrine enclosures for museums and art galleries that come with special requirements such as strict UV restrictions. Standard uses include clear museum display cases and museum stands, acrylic vitrine enclosures, and custom unbreakable wall-mounted displays for housing high-valued items in a public space.
DONATION BOXES
ePlastics® also builds acrylic donation boxes for applications such as business cards rollers, raffles, coin donation boxes, lockable donation boxes, church offering boxes, and others. These are also available in the standard sizes displayed online, as well as in custom orders for any application that you might have.
JEWELRY STORAGE
ePlastics® sells 7-drawer and 3-drawer jewelry chests, necklace jewelry chests, and cotton swab / plastic Q-tip holders for bathroom and powder room. We also offer stock or custom plastic bathroom trays for a wide variety of applications and uses. These acrylic jewelry storage chests and containers come in high quality clear acrylic and can find great uses in many different locations such as bedrooms, bathrooms, garages, kitchens, and more. We even make an acrylic tissue holder to add elegance to each part of your home!
BROCHURE HOLDERS
ePlastics® makes the highest quality brochure holders, literature holders, and leaflet holders available. Made out of thin acrylic, they are guaranteed to last. Below you will find many stock sizes, however custom runs are available as well if you need something you don't see for sale today.
MEASUREMENT AND CUSTOM ORDERS
All boxes are measured by width x depth x height in that order. The width and depth form the detachable base as shown in the picture to the right. Send an email with the dimensions of your project to info@eplastics.com for a quote today.