EVERY OFFICE NEEDS A CHAIR MAT
Chair mats are more than a piece of plastic under your chair. Chair mats protect floors ... and a floor's warranty. Most manufacturers of flooring require use of a chairmat under a chair with casters, or else the warranty is void.
Chair mats also provide a smooth rolling surface. Try rolling on a carpet. It takes 78% percent more energy to move a chair on carpet than on the smooth surface of a chairmat.
Our chair mats provide the best quality, best performing ergonomic solution for your work area.
How to Choose a Chair Mat
FLOOR TYPE
Carpet or hard floor?
When choosing a chair mat for carpet, check the carpet depth. We have an expansive range of mats available for a variety or carpets; from flat pile carpets with no padding to the plushest carpet over 1" thick. If in doubt, choose a chairmat for a higher pile carpet.
Chair mats for hard floors protect laminate, wood, tile and other hard flooring.
SHAPE AND SIZE
Consider your movement, are you mobile or limited? Do you have a traditional desk or does it have multiple sides?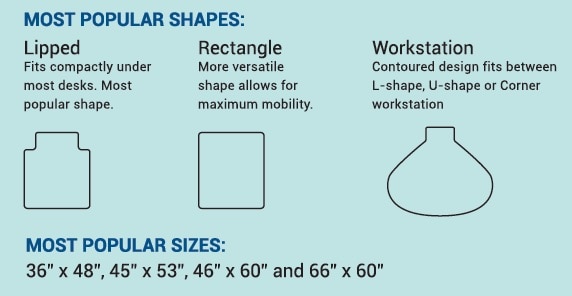 USAGE
For eight or more hour usage select a thicker pile mat
If you weigh over 200 lbs. choose a thicker pile mat
CARPET THICKNESS LEVELS
Flat Pile = Up to 1/8" thick
Low Pile = Up to 3/8" thick
Medium Pile = Up to 3/4" thick
High Pile = Up to 1" thick
Extra High Pile = Over 1" thick
CUSTOM MADE CHAIR MATS BUILT TO YOUR EXACT SPECIFICATIONS!
When a traditional chair mat doesn't fit your workspace, try one of our custom made chair mats.
Available for carpet or hard floors, our high quality chairmats can be customized for any work environment.
Perfect for unusual size or shaped workspace
Mats can be any length with a maximum width of 60" (extra-high pile carpet mats can have a maximum 72" width
Custom available for extra-high pile carpet over 1" thick including padding, medium pile carpet up to 3/4" thick including padding or hard floors for heavy use
Made in USA