Order PLEXIGLAS Online - How to Place an Order On-line at ePlastics - Where to buy plexiglass
How to Order Online
On our website you will find the widest online selection of plastic materials available in the USA. Our goal is a straightforward online experience with
no minimum order quantity
and
complete plastic customizability.
On this page you will find a detailed description on how to order online. If you would rather speak with a customer service representative regarding your order, simply call 1-800-474-3688 or email
orders@eplastics.com
and we will reply as quickly as possible.
Quick Links
1. Product Selection
ePlastics.com allows you to select items through the use of a global site search, filters, and various drop-down menus that make finding items simple. As you browse through the items, you will see a button next to each one that says "Buy Now". Selecting that button will bring you in to an Item Detail page with pricing information and a cutting box (for applicable parts).

On that page you will be able to select the quantity you would like to purchase, and input any special instructions for cutting and shipping.
2. Cutting Information
If your order requires cutting, read here. If it does not, then skip to step 3.

To input cutting information, select the number of cuts that you would like from the Straight Line Cutting Rates buttons (see image below). Enter all of your cutting instructions and dimensions into the cutting box. Be as detailed as possible, and keep in mind our nominal sizing information while measuring your pieces. The information you entered here is read by an ePlastics® employee, not an automated process - the more specific you make the information, the better.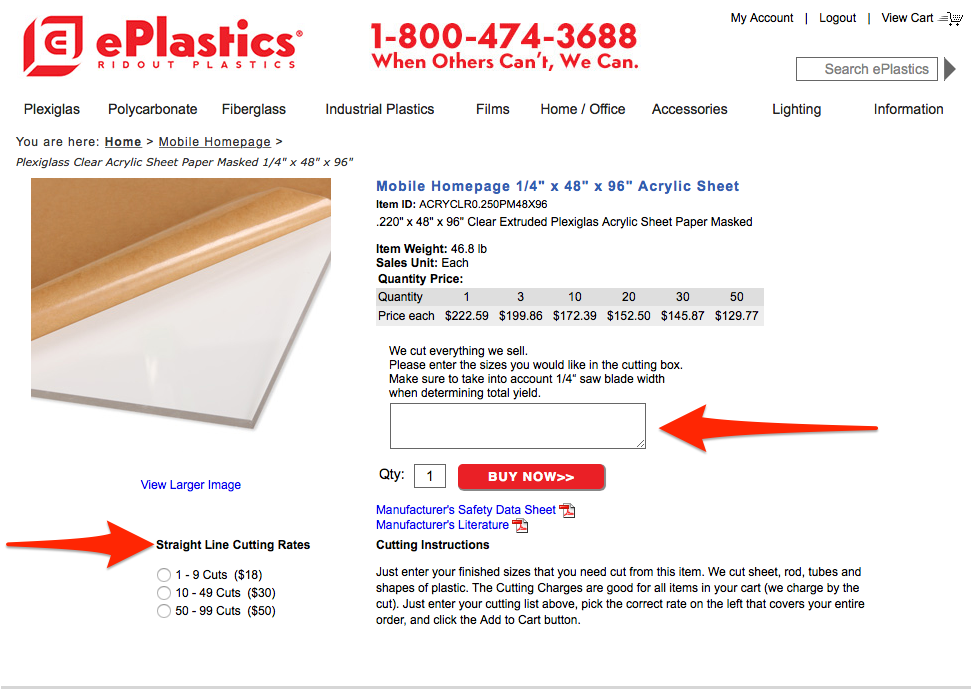 3. Item Quantity
Input the quantity you would like to order in the "Quantity" box (see image below).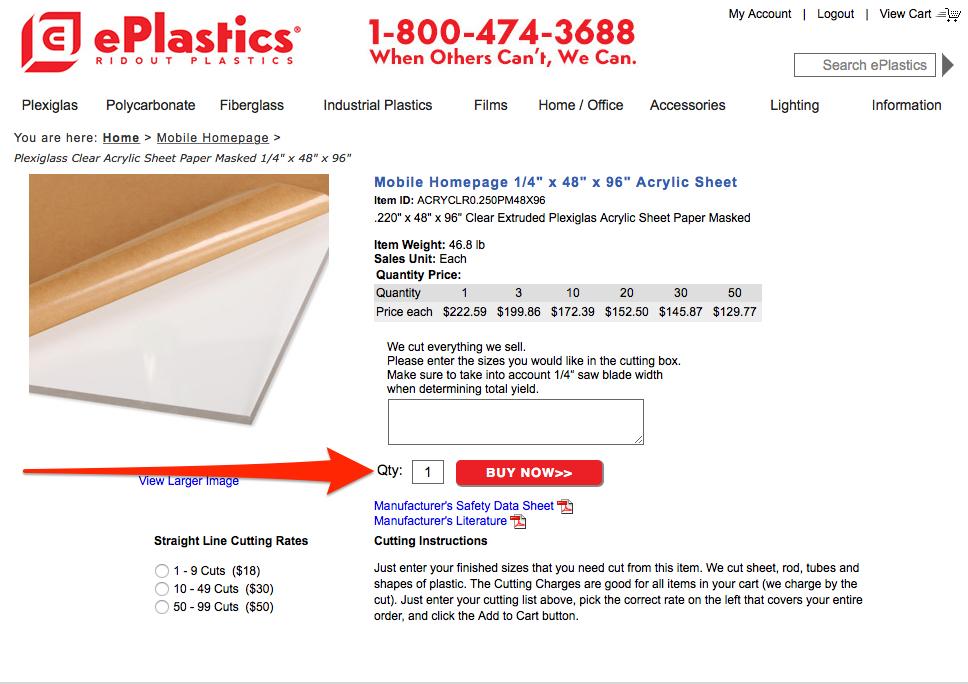 4. Shopping Cart
Click "Buy Now" to submit that item and review your order in the shopping cart.


5. Cart Review
Once you are in the cart review page, you can review all of your order details and calculate shipping charges. Simply enter the country and zip code of the delivery address and pick the appropriate ship method based on the size of your largest item (see image below). Only San Diego zip codes give an option for will call pickup. Please note that picking the wrong ship method will delay your order. If you have questions regarding the shipping sizes, email orders@eplastics.com or call our staff at 1-800-474-3688.

Click "Proceed to Checkout" to finalize order information.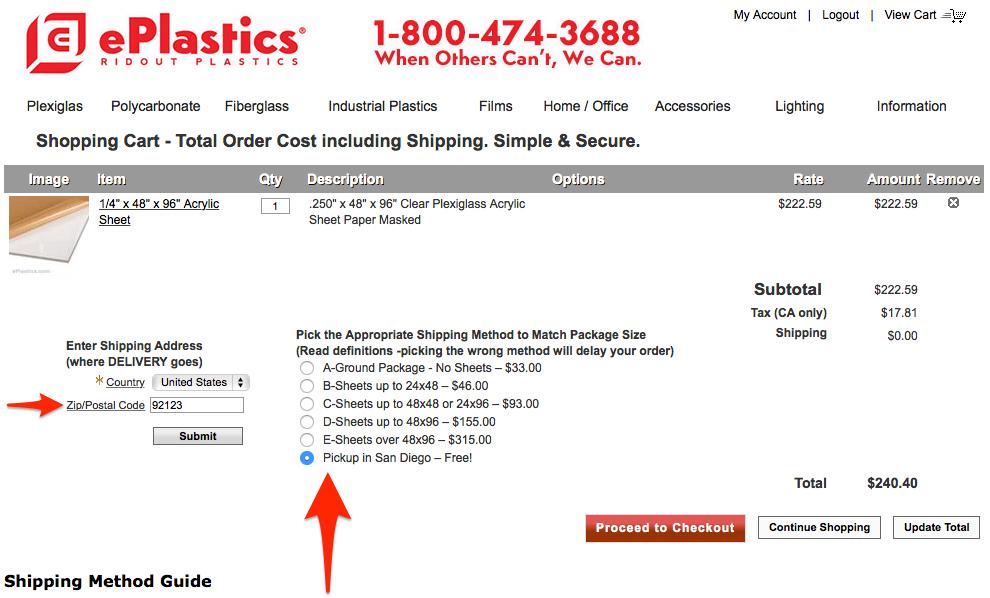 6. Registration
Registered users should login and verify that their information is correct on the Address Information, Shipping Method, and Payment Information tabs, and then proceed to Review and Submit Order (tabs shown in image under step 7).

Non-registered users should enter their information under New Customer Registration. If you want ePlastics® to save your information, then also enter a password and password hint. Click continue to proceed to normal checkout.
7. Order Submission
Once you have verified that all your information is correct, you can enter any final order comments in the comments box for our team to review. If you need exact sizing, expedited shipping, special delivery instructions, or any other information that we may need to know this is the place to notate that. If you have a California address, then sales tax is automatically added to your order. If you have a valid resale certificate, then please enter your resale # into the comments box when ordering, and then fill out this form to have tax credited back to your order. Instructions for form submission are listed on the form.

If you would like to receive the cutoffs from your custom cut material, please check the box that says "Check box to ship remnants" and we will send the extra pieces with your order. Lastly, click the box agreeing to the Terms and Conditions and then click "Submit Order" to finalize the transaction.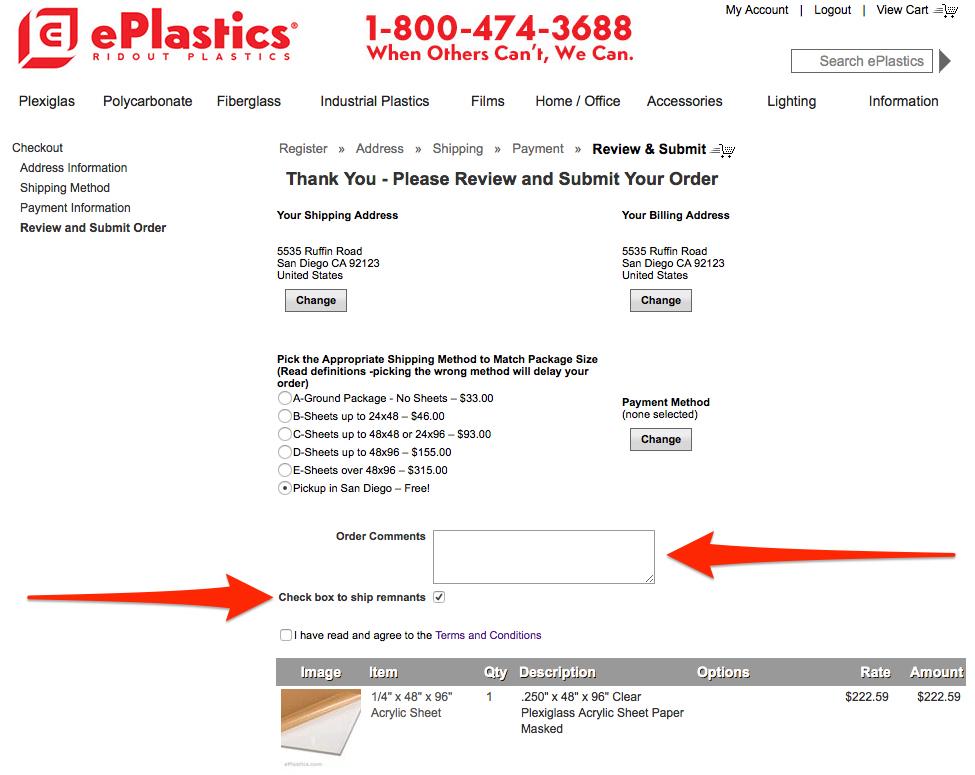 8. Order Processing
After you submit your order it will immediately be sent to ePlastics®, you will be emailed a copy of your order confirmation, and your order will be processed within one business day. Orders placed on a Friday or on the weekend will be processed following Monday. Orders are typically shipped within 1-3 business days. Cutting typically adds an extra business day to the item fulfillment. If there any delays you will be contacted by our customer service team within 24 hours of placing your order (weekdays only).
If you have any questions or comments about your order, please call 1-800-474-3688, or email
orders@eplastics.com
and reference your Sales Order number for more information (Sales Order numbers begin with SO-). To read more information about ePlastics
®
shipping regulations, click here.